Interested In The Inside Scoop?
Sunday, September 30, 2007
If you want to know about high profile cases, i.e. Lindsay
Lohan
, Paris Hilton, then you really have to check out the
Los Angeles Criminal Attorney Blog California Criminal Defense Lawyers Forum
. Past Prosecutors for Los Angeles post and converse about California criminal law, the strategies that are being used and close scrutiny given high profile cases. The author of this blog is a lawyer named
Dmitry
Gorin
. Mr.
Gorin
is also a professor at UCLA and
Pepperdine
Law School. Due to his knowledge and analysis skills, Mr.
Gorin
is frequently called on to perform commentaries for Fox News.
posted by
MOM IS NUTZ # 6:47 AM
,

|


Come One, Come All, The Freebies Are Posted For Y'all


I know, I know, it's Saturday, but when have I ever posted them on time?? In fact, I only chose to put "Freebie Friday" on my post because it sounded good and not because I was going to get off my lazy butt and actually post it. So, although I have no reason to believe that you'll buy this one, I am going to once again promise to post the freebies regulary, just now promising Fridays! :-) Here are a few good ones I found and I wanted to share them with you. Relax...Read...Click and get your free stuff groove on!! Take care and all of y'all come on back now ya hear??


FREEBIE FOR MILITARY FAMILIES
Free Blue Star Flag for Military Member & Families


In honor of all of the brave men and women in uniform, Grantham University would like to offer every service member a FREE Blue Star Flag that your family can display to pay tribute to your hard work, dedication, and service to our country. The Blue Star Flag first appeared in 1917, when an Army captain who had two sons serving on the front line designed it as a tribute to their dedication and service. The flag quickly became the unofficial symbol of a child in the service. Today, families who have a loved one serving in the military display a blue star flag in the inside front window of their homes to show the family's pride in their loved one who is serving and to remind others that preserving America's freedom demands much.

Grantham is dedicated to providing military service members, veterans and their families access to a high quality college education. To receive your FREE Blue Star Flag please complete the request form below - it's that simple!
http://www.grantham.edu/promo/freebluestar.php
posted by
MOM IS NUTZ # 12:54 AM
,

|


Hmmm.....I May Be Wrong, But I Think The Wrong Drug Rep Visited Nathan's Doctor....
Friday, September 28, 2007
We took the

Natester

to the doctor on Monday to ease a few concerns we had about his growth. Now, I know you don't compare one kid to another and all that, but, he is really small for his age. Everything was okay though, he's just a short little feller!! Although, I am not too sure they understood exactly what kind of growing we were referring too.

LOLOLOL
posted by
MOM IS NUTZ # 11:19 PM
,

|


I WISH I HAD A DREAM DICTIONARY
I guess it's the medication I am on, but I am having the
weirdest
dreams I have ever had in my life! For example, the other night, for some reason or another, Mariska Harigaty , (of Law & Order, which I don't watch anymore) were hanging out at all the fabulous Hollywood parties and then we went somewhere and she started giving me these dresses and such that cost $4000 and more. Now, I am not delusional, so I know I would never fit this fat butt into anything Ms. Harigaty owns, but, I can't control my dreams. Wonder if it means I am suddenly just going to lose a ton of weight? Doubt it. Now can you see why I need a
dream dictionary
?? Although, I am willing to be it would just say I'm Nutz!!
Labels: dream dictionary
posted by
MOM IS NUTZ # 11:46 AM
,

|


Oh Lawd....
Tuesday, September 25, 2007
I am so sorry to have not blogged for so long....damn...it's been hectic around here. Joey left a message for me to call him on Wednesday of last week, told me it was an emergency. Bejus, it was....he tangled with a table saw and the saw won. This is what his hand looked like when he got home:


And th
is is what it looks like underneath...ain't that nasty?? He cut all the nerves and slice the back half of this thumb off. I took these when we had to go and get his bandages changed, because it bled through. He's got 2 weeks off, workman's comp to deal with and I have to be a nurse. Woohooo.....I'll wash hair...shoot, I'll even help him wash the heiney....but I don't do wiping...lol....he's capable of doing that. The nerves are too fine to do surgery on, but they hope they will grow back and he'll have feeling in his thumb again in about a year. The second picture does not look as deep or thick as the cut really is, and the black stuff is dead skin. Gee...hope you weren't eating dinner while reading this.


Labels: Joey-injury
posted by
MOM IS NUTZ # 5:52 PM
,

|


Like Going To Concerts?
Thursday, September 20, 2007
If so, are you in the UK area or planning to visit soon? If so, you MUST check into this site:
It's the one stop site for purchasing all your Concert Tickets!! And Viagogo.com also offers Tickets for sporting events, arts and theater and special exclusive event tickets that you can't find anywhere else!!


The way the site works is also unique. Say a person bought a ticket or more to a certain event. Something comes up and they are not able to attend. You can sell your tickets online to other members!!


The one concert I would LOVE to see is The Police's Reunion Tour. They are having a non-stop, whirlwind tour. The remaining concerts they have are in the following locations:


September 22, 2007 - Munchen
September 27, 2007 - Barcelona
September 29 ,2007 -Germany
September 30, 2007 -France
And that's just the rest of this month. Next month they will perform in the following venues:
France
Mannheim
DÜSSELDORF
Manchester
Cardiff
London


I know they are Rock Legends and are most likely getting paid an amount that is outta this world! But, that is a lot of moving around and all. So, they probably do earn about 25% of what they get paid...the other 75% is given....ummm...just because they are The Police!!
Labels: The Police Reunion Tour and Concert
posted by
MOM IS NUTZ # 3:12 AM
,

|


Question...
Wednesday, September 19, 2007
Do all of y'all see my banner at top that reads, "Why are these kids following me?? And who are they calling Mom??" Only the top portion shows on my screen.
Labels: blog problems
posted by
MOM IS NUTZ # 11:23 PM
,

|


And He Thought The Bag Was Gay??? OY!!
Thursday, September 13, 2007
Now I understand why hubby wouldn't carry the "lunch purse." It did NOT match his fingernail and toenail polish!! Dang it...I wish
Rob
were still here...wonder what he would say about this little incident?? Would he find him "beautiful in a manly sort of way?" One could also surmise from these pics that we have wayyyyyyyyyy too much time on our hands here at the Nutz household. In all fairness, the hubster deserved it, he's always painting Justin's nails when he falls asleep...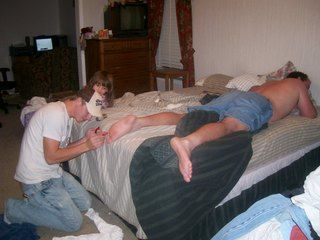 Fingernail Polish - $ 2.50


Bribing Noni to Hush Up Laughing So Loud - $ 2.00

Seeing Hubby wake up to go to the hunting club with a full set of red nails - PRICELESS


He took the fingernail polish off. But can't you imagine Mr. Manly Man having to go to the hospital and taking his shoes off.....and then showing off those pretty nails of his?? Guess the lunch purse may not look so bad after all!

!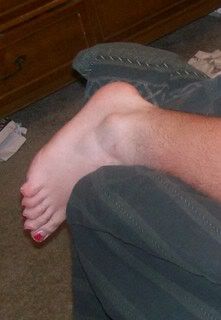 Labels: crazy life, Joey, Justin-the adopted one, my kidz are terrorists, nail polish, noni
posted by
MOM IS NUTZ # 11:42 PM
,

|


$$$$MONEY$$$$
With all the
drama
lying, stealing, and cheating at Joey's work we've seriously considered getting a cash advance . Cash advances may also be referred to as
pay day loans
. These loans are short term, small amounts are borrowed. A credit check is not required. No collateral is needed either. I did a little research on these loans, mainly at a site called
CashAdvance

1500.com
. Any questions about pay day loans or
cash advance loans
are covered. Also on the web site is a pretty extensive list of online loan providers. I'll put the answers to a few of the most frequently asked questions in this post. Be sure to check out their site for a lot, lot more.
You don't have to worry about if your credit is good or bad. No credit check is needed. All you will need is to bring how ever many paycheck stubs and bank statements that your lender requests.
To ease the hassle and not waste yours or the lenders time, be sure you fill out the application thoroughly. Also, don't
exaggerate
your answers. Honesty truly is the best policy.
Applying for a payday loan online has quite a few reasons that make it a better way to shop, apply and
receive
a loan. Several of these reasons are: Online loans are usually processed faster, complete the application in the privacy of your own home and lastly, no waiting in lines or lobbies to finally talk to someone. So, if you need a little fast cash to pay an unexpected bill or other expense that cannot wait, check out the site above, you won't be disappointed!!
Labels: Online Cash Advance Payday Loan
posted by
MOM IS NUTZ # 12:20 AM
,

|


I'm Tellin' Ya....That Man o' Mine Is SOOOO Comfortable With His Sexuality
Tuesday, September 11, 2007
One morning about a week or so ago I woke up in a "let's be a good wife" mode. I made lunch for hubby and then found out he'd lost his lunchbox, so I was going to put it in one of my "place we do not speak of plastic bags. Geez...none of those either. Then I remembered a bag my niece gave me. **Pictures below** The front of the bag is not white, it's a cloth diaper. I just put it there to cover up the name of the bank where my niece works. Now, I saw nothing wrong with the bag, it would hold everything nicely. I put Joey's lunch in it and he was already in the van, running late, and handed it to him. Here's our conversation about the bank bag....


Me **handing bag to hubby**


Hubby (looking puzzled) : What the heck is this?


Me: I ran outta bags, so I just put your lunch in there, why?


Hubby: **mumbling to himself how ridiculous this is** "hurry up, I can't wait all day!"


Me: Me, hurry up? What are you talking about, I'm ready! What are you waiting for?


Hubby: I'm waiting for you to go get the Sharpie marker.


Me: What do you want with a marker? You're a dork.


Hubby: I just wanted to help you out with the whole bag issue and let you just right GAY on my forehead so no one would be trying to guess if I am. Now even without my pocketbook people will know.


He didn't take his lunch in the cute little bag after all. DORK!!

How many of y'all see nothing wrong with a man carrying a bag like this with his lunch in it? I sure didn't think anything of it. It's not purple sequins, pink flowers and blue rhinestones...but yeah...you can.


Labels: husband
posted by
MOM IS NUTZ # 2:27 AM
,

|


Hitting Rock Bottom
Monday, September 10, 2007
Drug abuse is a prevalent illness that is sweeping our nation and others worldwide. Almost everyone knows someone that abuses drugs. Drug abuse does not discriminate against anyone. Those people that are addicted to drugs are from every race, every religion and every economic bracket. Location doesn't matter as well. In California, as in every state, the effects of drug abuse are more and more evident each day. Mothers and fathers losing their family due to drugs, imprisonment for drug use, living your life until the next high and the list could go on and on. I'd like to tell you a little bit about one
Malibu drug rehab
option.
Anyone can be addicted to drugs, but, hope lies in the fact that everyone can also get help for drug abuse. At Cliffside Malibu you will be entering a top notch facility that is dedicated to you and your recovery. Cliffside Malibu's housing offers breathtaking ocean views and a multitude of outdoor activities to keep one focused and busy. A few of these activities are horseback riding, surfing, bike riding and hiking.
At Cliffside Malibu our goal is to provide to our clients the resources they will need to combat and overcome their addiction(s.) This is evident in aforementioned housing and the effort that Cilffside Malibu put forth in this endeavor. Thus, the client is afforded privacy and the attention they deserve.
Each and every staff member, from doctors to massage therapists underwent a complete and meticulous selection process. This process allows Cliffside Malibu's clients the opportunity to focus on their recovery and not worry that the staff may not be up to par. Violating a person's right to privacy is not an event one has to wonder about at Cliffside Malibu.
Labels: cliffside Malibu, drug rehab
posted by
MOM IS NUTZ # 11:41 PM
,

|


When a woman steals your husband, there is no better revenge than to let her keep him~Author Unknown
Joey and I were at church a week or so ago. The topic was how God gives each of us talents. Some people think that these talents are only obvious ones like singing or preaching. In actuality there are a lot of talents. Maybe some people have a talent for visiting those who are sick or calling people and just listening. Anyway....I leaned over and whispered to my dear hubby, " I think the talent God gave me is housecleaning." His reply?? "You're going to hell."
Labels: cleaning house, husband
posted by
MOM IS NUTZ # 12:49 AM
,

|


Reason # 7,685,482,338 That I Ain't Gettin' That Mother of the Year Award AGAIN!!!
Wednesday, September 05, 2007
Moooommmmm....the tooth fairy left my tooth under my pillow...no money...nothing!!!


(Oh hell, I fell asleep.....dear God...what is the matter with me...I am a horrible mother...geez....)


Really?? Are you serious??? Wow...must have been a busy night for her!!! Leave it there, I'm sure she'll flutter by today while you're at school!!


Mom, the tooth fairy is a night thing...she won't come by....


No really, I swear to all things holy...happened to me one time....that ol' fairy had an extremely busy night and when I got home, swear to ya, money under tha pillow....why would I lie...what do I get out of you getting money from some winged fairy thingy? In fact, she could even flutter in and do it while you're matching a pair of socks outta the dryer, ya know?


Let me tell ya, I've never threw 2 bucks under a pillow so quick in my life. And no, I don't always match the socks as soon as they get dry exactly. I think once in a while...okay, a lot of the time, finding a matching pair of socks in the dryer on a school morning is fun...kinda like a scavenger hunt. Fun for who exactly, I don't know...but still, ya know????
Labels: No Mother of the Year Award Here, tooth fairy
posted by
MOM IS NUTZ # 11:05 PM
,

|