And He Thought The Bag Was Gay??? OY!!
Thursday, September 13, 2007
Now I understand why hubby wouldn't carry the "lunch purse." It did NOT match his fingernail and toenail polish!! Dang it...I wish
Rob
were still here...wonder what he would say about this little incident?? Would he find him "beautiful in a manly sort of way?" One could also surmise from these pics that we have wayyyyyyyyyy too much time on our hands here at the Nutz household. In all fairness, the hubster deserved it, he's always painting Justin's nails when he falls asleep...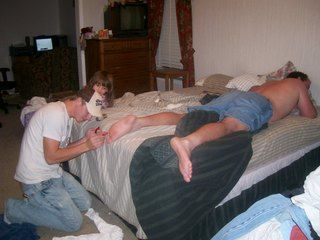 Fingernail Polish - $ 2.50


Bribing Noni to Hush Up Laughing So Loud - $ 2.00

Seeing Hubby wake up to go to the hunting club with a full set of red nails - PRICELESS


He took the fingernail polish off. But can't you imagine Mr. Manly Man having to go to the hospital and taking his shoes off.....and then showing off those pretty nails of his?? Guess the lunch purse may not look so bad after all!

!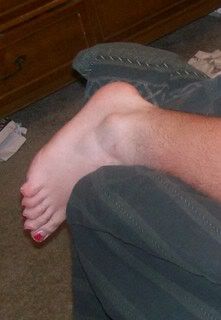 Labels: crazy life, Joey, Justin-the adopted one, my kidz are terrorists, nail polish, noni
posted by
MOM IS NUTZ # 11:42 PM