Last Quiz...Promise...Results Sent Via Email...I Just Gotta Ask....
Saturday, December 23, 2006
Being unique is important, but are your quirks pushing you too far outside what is considered normal? This fun personality quiz will give you the answer. Find out if you're in step with normal America, or if you're marching to the beat of your own drummer.
My Results


Your Quiz Score: 49


Your quiz score makes you:
Wonderful Eccentric


You've earned the title of wonderful eccentric,
and while you're not a wild, gun slinging maverick,
you certainly like to follow your own way.


Of course, you probably don't think of yourself as Eccentric.

As Einstein might say, "It's all relative."




Eccentric my butt...I'm plain old NUTZ!!!
Labels: Online Quiz Thingies
posted by
MOM IS NUTZ # 2:08 AM
,

|


Just Some Fun Quizzy Thingies I Came Across...
Let me know in my comments if you did them too!! Yeah...I promised to start posting more..and this is what I call a "blog-filler" post.....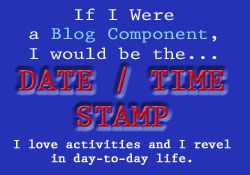 If I Were a Blog Component, I would be the DATE / TIME STAMP.
I love activities and I revel in day-to-day life.Which Blog Component Are You?
Take This Blog Quiz at About Web Logs!
Your Brain is 67% Female, 33% Male>
Your brain leans femaleYou think with your heart, not your headSweet and considerate, you are a giverBut you're tough enough not to let anyone take advantage of you!
Your French Name is:
Anouk Boulet
On Average, You Would Sell Out For
$311,344
Labels: Online Quiz Thingies
In Order To Preserve Peace and Tranquility, I Had To Kick a Nutz Child Out...
Thursday, December 21, 2006
When the

hubster

and I went to our counseling session together, the therapist suggested we get this book on parenting. We've only read one chapter, but I, as usual, skipped ahead and read a few other chapters. As I've previously stated, I think, I am a

yeller

...I yell, holler and yes, even sometimes cuss when my children have me teetering on the small ledge of sanity I cling to. But NOW I have a book to help me and by God I am gonna try it out. Today the eldest

Nutz

child, Nicklaus, (10) decided to pitch one of his screaming

hissy

temper tantrums. These types of fits originate in Hell and by the end of them I am usually Satan incarnate. The tantrums are the sort in which, for one moment ,you understand why some species eat their young, to shut them the hell up. Anyway, today I was ready.....I grabbed Nicklaus by the arm and put him out on the front porch. I told him that when he'd cooled down he was welcome to come back inside, until then, he could walk around and blow off steam. He could scream at the top of his lungs, he just would not be doing that in my house, I had no desire to listen to it. Incredulously he asked, "You're kicking me out of the house?" And I replied, "That's right." I put his boots on the front porch,(he was barefoot), and told him if he wanted to put on his boots, he should, it would be a shame to be sick on Christmas and not be able to play with his gifts. I then walked back in and locked the door.
After knocking on every door to no avail for about 15 minutes, he then began the wailing about how unfair I was, then the promises began (yelled at ear shattering levels) of how he was now "calmed down." For once in my life I did not give in, I calmly watched a movie with the other two. I peeked through the window and Nicklaus was walking around, boots on, talking to the dog. I'm sure he used every cuss word or called me every name in the book. The next time he came to the door, he yelled, "Momma, if you don't let me in I need to use the phone to call a shelter." He then proceeded to walk away from the porch. I put a phone book and a phone on the front porch for his quest in locating homeless shelters. The entire episode probably went on for 30 to 45 minutes. But you wanna know something? He sure was a calm little lad when I did let him back in. Score one for Momma!!!
Labels: Discipline, Nicklaus, Parenting, Tough Love
posted by
MOM IS NUTZ # 10:48 PM
,

|


WARNING!! OBLIGATORY KIDZ -N-SANTA PICS
Wednesday, December 20, 2006
When asked by Santa what he would like for Christmas...the youngest Nutz child, Nathan replied, "an apple." Noni wants a necklace, a bracelet and a teddy bear. Nicklaus wanted to attend the other event we were considering, but we opted for Santa instead. The other event? Meeting the Georgia Southern (a college here) Varsity Cheerleaders. Nicklaus still believes in Santa, he just prefers pom-poms and short skirts over the fat guy I guess.....does this mean he's growing up?


Labels: Christmas, KIDZ, SANTA
posted by
MOM IS NUTZ # 10:38 PM
,

|


Special Edition Freebie Post...Hope you enjoy them (and your kidz might also!!)
Tuesday, December 19, 2006
downloadable santa game


Labels: christmas freebies
posted by
MOM IS NUTZ # 1:40 AM
,

|


(YOU KNOW THE DRILL...) On the 3rd Day of Christmas...
Friday, December 15, 2006
The lovely
LIVEY
sent to me a huge ass box of Christmas stuff for the Christmas tree.....and the youngest NUTZ kid his own KISSMAS TEE and a stocking with a Doggy....



And Auntie Livey...of course we want to say we love you and


And no, the youngest Nutz will NOT wear clothing in the house!! He may have taken a bit after Auntie Livey...hmmm...?
Labels: 3rd Day of Christmas, Christmas, Livey, Thanks
posted by
MOM IS NUTZ # 4:58 PM
,

|


(Humor Me, Sing Along Again) On the Second Day of Christmas
Thursday, December 14, 2006
MY TRUE LOVE GAVE TO ME....ANOTHER DAMN THING TO TAKE CARE OF AND FEED!! Yep....a guy at work gave him this little lovely, whom we've named "BlueBell" or "BB" for short....didn't anyone take into consideration my rather neurotic, and unfounded fear of birds?


Labels: More Work for Momz, Parakeet, Second Day of Christmas
posted by
MOM IS NUTZ # 9:57 PM
,

|


(Please Sing First Few Lines) On The First Day of Christmas...I Told My Children Three...
Wednesday, December 13, 2006
IF YOU TOUCH THE BABY JESUS AGAIN, I'LL RIP OFF YOUR HEAD.....Concerning the Nativity...

(Yes, I know that the 12 Days of Christmas are traditionally the days after December 25 until the Epiphany, but...I thought I'd do a 12 Days Nutz Style....we do share the true meaning of Christmas here all season long...eh?) The Nutz Kidz only moved every single decoration, including the Baby Jesus, who was sleeping so sweetly in his manger I might add, a billion times since adding them to the decor of our home....



Labels: 1st day of Christmas, Baby Jesus, christmas and kidz
posted by
MOM IS NUTZ # 9:10 PM
,

|


This Looked Interesting...
Tuesday, December 12, 2006
Labels: Online Quiz Thingies
posted by
MOM IS NUTZ # 11:58 PM
,

|


UMMM....I DON'T THINK SO....
STOLEN FROM
LIVEY
WHO STOLE IT FROM
LL
Labels: Online Quiz Thingies
posted by
MOM IS NUTZ # 11:52 PM
,

|


Men.....I don't understand.....
During the month of bipolar hell I, Momz, as stated before, had it....I blew a gasket. As such, I decided to go and stay with my parents a few days. Upon returning home, before walking into the kitchen, we sat down in the living room and were going over a few things. I asked, "I suppose you didn't even put one dish in the dishwasher while we were gone, huh?" Yep...I'm a bitch....so, anyway....hubby answers, (keep in mind we were gone FOUR days) "No, all I messed up were 4 spoons." He ate everything outta the can, no warming up, no plates, hell for that matter, just drink outta the 2-liter soda bottle....how long do you think he would have kept that up? I'm curious to leave for a week or so and just see what the hell he eats to survive...BWAHAHAHAHAHA
Labels: bipolar, men and cooking, stupid men
posted by
MOM IS NUTZ # 6:50 PM
,

|


Hey Y'all!!
Wednesday, December 06, 2006
It's been a while, eh? Did ja miss me?? Of course you did!! LOL....It's been a trying time around the old Nutz household. Momz here reached her breaking point and I must say I broke pretty damn hard!! Most of my regular readers (all 2 of them) knew that the hubby is bipolar. He takes 3 different types of medicine, Depakote, Zyprexa, & Effexor. The miracle drug is the Depakote. And the miracle drug is the one the doctor cut down....and EVERYONE here knew it. Things are on the mend here...We're both committed to our marriage and we even had a counseling session (our first) tonight....so, the rollercoaster ride I've been on seems to be slowing down and I'll start posting again regular....tomorrow!
Labels: bipolar, crazy life, Depakote
posted by
MOM IS NUTZ # 9:57 PM
,

|