Just Some Fun Quizzy Thingies I Came Across...
Saturday, December 23, 2006
Let me know in my comments if you did them too!! Yeah...I promised to start posting more..and this is what I call a "blog-filler" post.....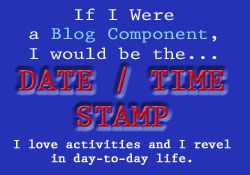 If I Were a Blog Component, I would be the DATE / TIME STAMP.
I love activities and I revel in day-to-day life.Which Blog Component Are You?
Take This Blog Quiz at About Web Logs!
Your Brain is 67% Female, 33% Male>
Your brain leans femaleYou think with your heart, not your headSweet and considerate, you are a giverBut you're tough enough not to let anyone take advantage of you!
Your French Name is:
Anouk Boulet
On Average, You Would Sell Out For
$311,344
Labels: Online Quiz Thingies