Country Cooking At It's Finest....Yummy, Yummy For My Tummy!!
Friday, June 22, 2007
I thought I would share with y'all a favorite down home country style treat that is quick, delicious and contains the word FRIED which is a pre-requisite of all good country cooking. Y'all really should try this. It takes all of ten minutes to prepare and is a simply delicious treat! Is it low in calories or fat? Not in the slightest. What country cooking has that as a selling point? I used yellow squash, fresh out of our garden. You can use any kind really. I just like the yellow kind. Here are the sqaush. Aren't they gorgeous?



First things first...slice the squash about a 1/4 inch thick...like this.


Next, you wash them off. I usually put them in my sink and use the sprayer to get them clean & really drenched. DO NOT DRY THEM OFF. While still in sink, I add salt and pepper to taste.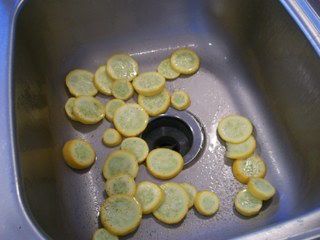 Third, grab your corn meal and put it in a shallow dish or bowl. I prefer Miller's White Corn Meal. Dip your seasoned, wet squash in the corn meal.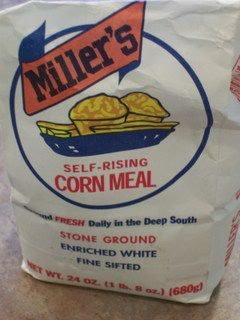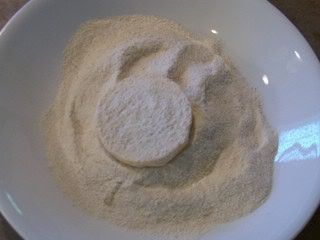 I then put my squash in my ever present Fry Daddy. I just turn that sucker on as high as it will go and wait for the squash to float. That's how I know it's done. Or, they are a light to dark golden brown.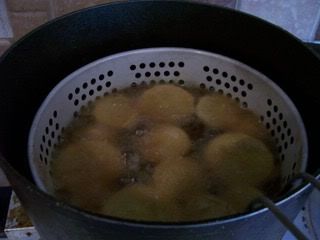 Then, you take them out and drain them on paper towels. Or, if you are like me and forgot you were out of paper towels, you can use coffee filters. Grab you a glass of sweet tea or Co-Cola and enjoy them while they are hot. It ain't so good cold.


Labels: Country Cooking, Fried Squash Recipe, Fried Vegatable, Recipe, Southern Cooking
posted by
MOM IS NUTZ # 7:22 PM