This Is One Reason Why I Love Living Here...
Wednesday, June 20, 2007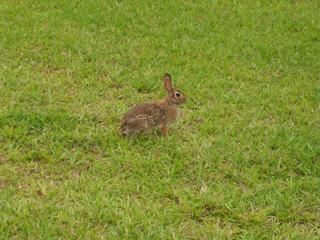 My kidz, and I, get to see all sorts of wildlife. This little guy was just sitting in the yard when we came home the other day. We always pass 10-15 deer on the way home. I am trying my best to capture some on film. I wanna share them with you!! The other night, Joey heard Jack (our Jack Russel/Chihuahua mix) barking his head off at something. He went out with his Q-Beam and there were 2 deer in our front yard. It's awesome. Well, at certain times of the year, when it's legal, Joey & Nicklaus try to kill all things cute and wonderful, but the rest of the year? It's great. This is one reason I would hate for a subdivision/government housing/massive trailer park to go in next to us. Where would we get to see all these animals? And where would Joey and Nicklaus find them to kill?
Labels: country, hunting, redneck, wildlife
posted by
MOM IS NUTZ # 7:07 PM