Happy BIrthday To Who???
Friday, August 24, 2007
Although we are as broke as convicts, on Noni's birthday she asked to go to Hooter's of all places. Anyway, we were sick and tired of telling our kidz "no, we can't do that" and Joey did a side job that paid really well so off we went. Personally I think Nicklaus got her to ask to go to "The Land of Boobies." But they both said it was Noni who wanted to go...so I guess I'll let it go at that. We did have a good time, it was wonderful to be able to do something as a family that did not entail just driving to "the place we do not speak of" for our requisite $50-$60 of groceries for the week and cat litter & food for Jack, Loki, Kitty Fisher & the demon birds.
Of course I had to tell our server that it was the Princess' birthday (gotta sing Happy Birthday again, ya know?) Sure enough, as soon as we were finished eating, our waitress went to the middle of the floor and clapped her hands and every waitress in the place flocked to her. (**more on this at bottom of post**) As one of them approached the table, followed by the rest of the flock, I could read Nicklaus' mind by the expression on his face. What did I gather about this moment? Well, I tend to think my boy was saying, "Oh my Lord, the Boobie Fairies have landed and they are coming straight to me....Yes Virginia, there IS a Boobie Claus!" They arrived at the table and asked Noni to come with them. This is her expression upon hearing that: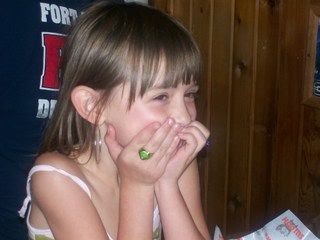 The Hooter Girls took her to the middle of the restaurant, where they announced that "Tinkerbell turned 21 today!" Then they made her do a little dance as they sang the Hooter's Happy Birthday Song for her: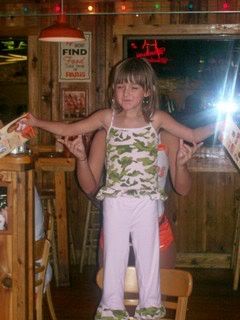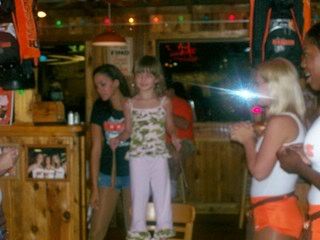 She loved it. However, I believe in terms of happy kiddo, Nicklaus was the happiest of all.




** When Nicklaus saw the Hooter Girl clapping and all the others come to her, his little mind started workin' overtime. On the way home, this is what he'd conjured up:
Nick: "Well, I know how to get Hooter Girls, Daddy. I can just stand in the front yard and clap. They come to clapping."


Daddy: "Son, if it were that easy, I'd be outside clapping every night."
Labels: Birthday, Hooters, Joey, Nicklaus, noni
posted by
MOM IS NUTZ # 1:35 AM