Mrs. Dawn, Done, Done It!!!
Saturday, November 05, 2005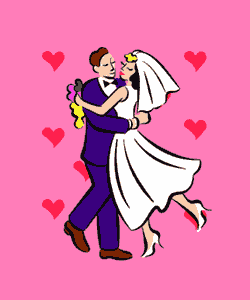 Ms. Dawn is now officially Mrs. Dawn, she and longtime boyfriend tied the knot....And while I don't know her personally, I've read her blog, and I think she is one of the people on this earth that deserve TRUE happiness. She paid her dues in hell, and her time is NOW. To put it mildly, she's had a, ummm....few relationship and family issues. (Personally, I wonder if I could have made it through as much as she has!) So, click
HERE
and wish Dawn, her daughter and her new hubby - CONGRATULATIONS!!


CONGRATU-FRIGGIN-LATIONS!!
ON THE HUSBAND
AND THE CHANGE IN JOB!!
I AM TRULY HAPPY FOR YOU!!!
posted by
MOM IS NUTZ # 4:03 AM