Scenes From The Nutz' World....
Friday, July 20, 2007
As you all should be aware of, I LOVE taking pictures. No, I am not a professional by any means. I just thought I do a couple of pic post to show you our little corner of the world and what is in it. As I've said before, we go out riding in the evening almost every day during the week. Why? Because, I LOVE TAKING PICTURES!! And I am on the hunt for a picture of ALL the deer around here. However, they are usually in the back of this big field ( there are always at least 15 of them, most evenings around 25-30.) I can't ever get a good picture because they are way too far away. My camera doesn't have an attachable zoom lens and that is what you need for far away shots like this. Hubby says just as soon as the kidz get grown he'll buy me one. LOL....Anyway, here's the first of my pic posts with explanations beneath.




One of the roads we ride down has an enormous pond with slews of Canadian Geese. I love seeing them!! Sorry the pic is a little blurry. It's the whole zoom issue again.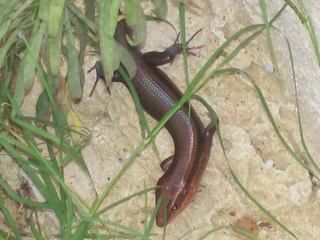 This creature was in our back yard. Anyone know what it's called. Besides "huge ass lizard creature?" Do we have salamanders in Georgia? Is that what this is?



Kitty FIsher and Loki hanging out. Just couldn't resist the pics, they looked so cute. (Sorry Rob, I know you hate them. :-) I remember our cat discussion vividly!! The last picture is how they sleep most of the time.
Labels: cats, geese, lizard, pictures of my life
posted by
MOM IS NUTZ # 1:16 PM