The Gathering...
Monday, July 16, 2007
Thought I'd share with you a few pics from our redneck get together...yeehaw..ain't nuthin' better than guys with guns!!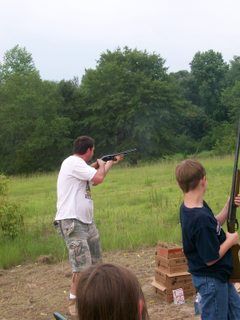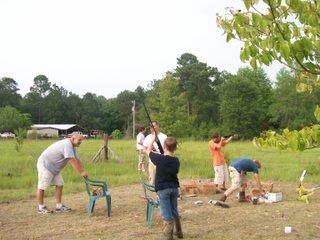 And no decent down home gettin' together is complete without some horseshoe throwin'!!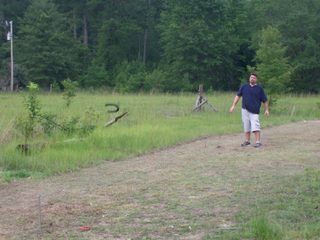 And here's a pic you won't see the likes of often. (Don't worry Lisa...yer face is hidden) My beautiful niece with a baby....she is never going to procreate. And I won't tell her she needs to again. Every time I did, I ended up pregnant.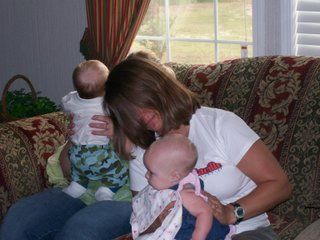 This baby ALMOST makes me want more.(then I remember they DO grow up) ..he's the cutest kid in the universe. And, I might add, he's a very smart tyke as well. This is his grandmaw. (okay...Nana) ...my best friend Sherry...she ain't proud of her cutie pie a bit is she?? Y'all that are the praying kind, say a few words for Baby J, k? He had club feet when he was born and now his casts are off and his braces are on. I'd appreciate it!! Also say a prayer or two for my friend and Sherri's sis in law, she's on her umpteenth dozen battle with cancer and has a little boy ( I think he's 7 or 8) that needs his momma. She's the one in the stylish do-rag. I love those things, but can't ever figure out how to tie them right. Michelle is cool as heck and had an awesome dice game she was teaching us to play.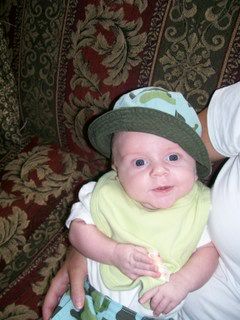 Crazy BITCH WITH GUN....RUN PEOPLE...ARE YOU MAD??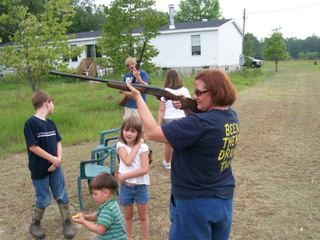 THE AFTERMATH...THAT'S A WHOLE LOTTA SHOOTIN' EH? And Joey had to clean it all up.....


I can't wait to do this all again. We had 15 guests in the Nutz house that day...and it was great!! I love having people come over to our house, since our last one was so small.
Labels: prayer requests, redneck hoedown, The Gathering
posted by
MOM IS NUTZ # 1:41 PM