THIS IS LONG, WITH LOTS OF PICTURES, BUT IT'S WORTH IT!
Friday, July 14, 2006
This may be old news to y'all, but I loved it and had to share.


Mom creates moving Marine Memorial
By Alejandro Alfonso, STAFF WRITER


PLEASANTON — Some people wave and take pictures, others give a thumbs-up.
Truckers yank on their horns as they pass on the highway. And wherever Karla Comfort stops and parks her H-3 Hummer, a crowd gathers to look.


The Hummer is a moving memorial to her son, John Holmason, who was killed in Fallujah, Iraq, on Dec. 5 along with nine other Marines. It has been airbrushed with images Comfort collected from friends and relatives of the Marines who served with her son. Alongside those images is a scene of warriors on the battlefield, Marines walking hand in hand with Iraqi children and saluting comrades among clouds shining with heavenly light. On each side of the rear windows are portraits of the 10 Marines who died on that day.


During the Alameda County Fair's parade today, the Hummer will be driven through downtown by Lance Cpl. Ian Dollard, who survived the bomb blast that killed Holmason and the others from his platoon. "It is probably the best paint job I've ever seen on a car," said Dollard, 20. He still has difficulty talking about what happened. His own image is painted on the driver's-side door. "It's hard to explain. I appreciate that Karla is going to let me drive it in the parade. I think it will be cool."


The idea to airbrush the car came to Comfort after she saw a 2005 Ford Mustang with a similar memorial for Vietnam veterans. "I just remember I looked at that car for maybe a half an hour, walking around it and I just thought, 'Wow, this is beautiful, what a neat thing to do,' and that was about six months before this happened," she said, referring to the death of her son. The reaction she has received, especially from those in the military and their families, is something she did not expect. "When I picked it up I was shocked because I did not expect all of this. I've gotten very, very, very positive reactions."


Another thing that I did not realize would take place with this Hummer is all of the retired and active Marines, this truck has become their truck as well." Besides the images, the truck is decorated with slogans. "All gave some — some gave all," is etched under a list of the 10 names. "John 3:16," is written over the back window.


Pfc. Jonathan Maltez of Fremont wiped at his eyes as he walked around the truck Friday at the fairgrounds. It is parked next to the Blue Star Moms table, where fairgoers can write to military personnel still overseas. "I was crying," Maltez admitted. "I usually don't cry."


Lance Cpl. Kevin Behrendt of Pleasanton went to high school with Ian Dollard. He also was standing post next to the Hummer on Friday at the fair. He looked at the picture of Dollard on the door of the truck as he related his feelings. "It's humbling to know it's that close. Some people don't get it, how close you actually get to your fire team, your squad, your platoon. There is a brotherhood there."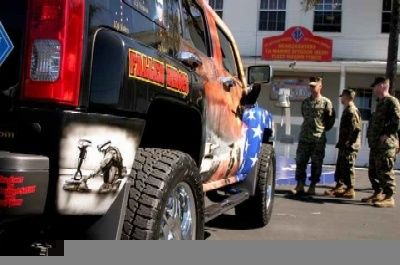 posted by
MOM IS NUTZ # 4:25 PM