I Just Can't Come Up With a Title for This One...
Tuesday, July 11, 2006
Okay, the hubby, myself, and the two youngest spawn Nutz children went to Wal-Mart. Upon leaving, we noticed a blue tint in the Southern sky. What in the world could it be? Well, honey, sit back and I will tell you. It was about 50 police cars, blue lights going preforming a massive roadblock/registration insurance check. SHIT....Oh I forgot to mention that due to massive budget cutz in the Nutz Household- I did not pay the last insurance bill, I was saving it to send off in the mail the following day. Hubby was not aware of this. Hell, I ALSO forgot to mention also that it has been canceled for about 6-7 days. So, of course, we get a ticket for no insurance, not only that, I had not gotten my tag since the thing stayed at the dealership's garage for months....I still had a good 5 days or so on that written one. So, the no insurance thing meant my car was impounded. Loaded up on a wrecker and taken away like a common criminal. It's all good, I have tag, insurance and registration now. Yes, I know it was stupid, but I do what I do without thinking sometimes. The officer was really nice, he apologized for having to do this several times. In order to help him with the inner turmoil he seemed to be experiencing, I told him if he really felt that bad, he could just wave us on and we'd have no hard feelings, didn't work. He did let Nathan sit in the back of the patrol car while we waited for my dad to come and pick us up. In the following witty table, please keep in mind, I've mentioned before my hubby is bipolar, he has a tendency to get mad, angry and be just really ugly. I knew he was gonna rip me a new one, he did not.


COST OF BUYING INSURANCE: $248.99


COST TO RETRIEVE CAR FROM IMPOUND YARD: $ 145.00


COST OF KNOWING YOUR HUSBAND'S NEW MOOD STABILIZER PRESCRIPTION WORKS
SEEING YOUR BABY LOOK LIKE ONE OF THE DERANGED DRUNKS ON COPS
- PRICELESS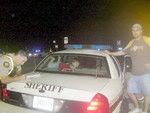 posted by
MOM IS NUTZ # 5:18 PM