Ode To Freeze It
Tuesday, August 07, 2007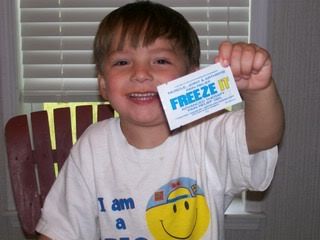 I saw the look on my husband's face as he came through the door
I immediately knew why he was home much earlier than before.


A slow gait, a grimace of pain, I knew he'd hurt his back again.
I told him to sit down & I'd find something for it,
I searched the house in a manner that was hurried...

"What's the use" he asked "we've used every cream, every lotion and every salve. They are all useless, they are all the same"

I remembered the samples I'd received in the mail, why just this morning is when they came.

Three samples of Freeze It that promised a change.He said okay, but this is the last, never again.

I opened the packet and squeezed out the gel...Immediately a cooling sensation was felt.

In just 10 minutes or so the pain was all gone, it made him so happy, he hummed a little song.

The menthol scent of Freeze It lasts a very short time.And there are no stains or greasy messes of any kind!

Added to Freeze It are Aloe and Vitamin E to help soothe the skin.So just try Freeze It, you'll never use another product again!!

Okay, so maybe I am not a poet, but I wanted to do something different. The story told above really happened. The

hubster

twisted his back installing cabinets and came home in horrible pain. I put on some Freeze It and the pain vanished. In fact, he went outside and mowed the lawn!! If you have aches and pains, you really HAVE to try Freeze It!!
Labels: Freeze It
posted by
MOM IS NUTZ # 7:22 AM