NOTE TO SELF...
Friday, September 30, 2005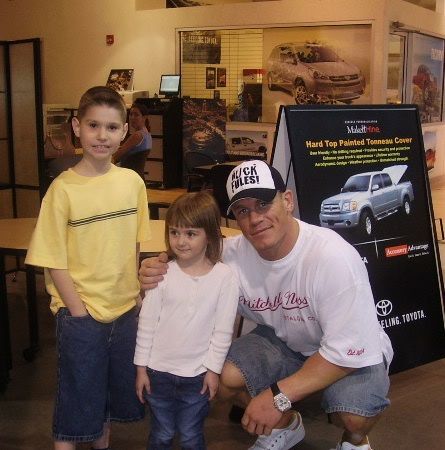 This must be remembered in the future. If your two eldest children beg for a CD by Rapper and Wrestler John Cena, I am not really a fan of wrestling, I do like rap, not gonna aplogize for it. Anyway...back to the point. When your kids beg for the CD, and you Pre-order the EDITED version. The edited version due to one song having that terrible "F" word in it. And I have no reason to let my 9,4 and 2 year old ride around listening to that, now do I? Not to mention the numerous other bad ones on the CD. So, when you take great care to protect your little ones from life's naughtier words until they are older, I think that one of the most important steps you should take when listening to the CD's in question is for you, the mother, not to fill in the blank parts of the CD, the ones where the profanities should be, but instead are just blanked out, the MOST important things to remember are:


ONE:
The song will go silent for a brief second, the offensive word has
been removed, you bought this edited version for that reason.


TWO:
The song did NOT go silent for you to continue rapping like the
true member of the Chain Gang that you are, sorry, off the point again...
the song did NOT go silent to enable you to to rap the offending word
to the top of your lungs, thus making sure your kidz will know the
CORRECT way to pronounce it, with a proper Southern twang as well!





OKAY....OKAY...I will also admit that after I met John Cena, I began watching wrestling like a fiend, but only to get fuel for my little dreams concerning the Cena. I in no way cared about the other matches portrayed. This guy is fine with a capital F. I'd love the chance to call him "Big Poppa." (Sorry, another rapper reference...lol) This concludes "True Confessions from a Rap Listening Momma"

**What do I hafta do to get a peek at the champ? J/K...not really........
posted by
MOM IS NUTZ # 1:00 PM