Old Macdonald Had A Farm, E-I-E-I-O (until into jail, he did go)
Wednesday, June 13, 2007
The kidz and I were watching TV yesterday when all of a sudden the loudest whirring noise imaginable filled the air. What in the world?? Well, I soon found out. It was a very low flying helicopter and on the ground were a few government-type looking cars. Y'all can ask

Livey,

I live in the middle of the boonies, so the SWAT team is not indigenous to this area. That helicopter was so low at one point, you could feel the wind off of it and it sounded like it was landing on top of my house. Hmm...wonder what the heck they wanted in those woods?? Wait I have an idea...it could be the pot farm the black guy on the four-wheeler had. If I was a bettin' woman, my money would be on that.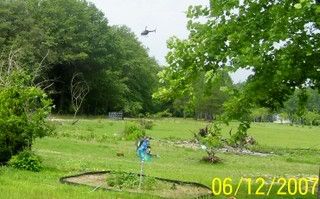 However ,I think they handled is stupid. How can they prove who's it is?

Just by confiscating the doobage? He, the pot farmer, may have to actually get a job...isn't life cruel?
posted by
MOM IS NUTZ # 11:01 AM